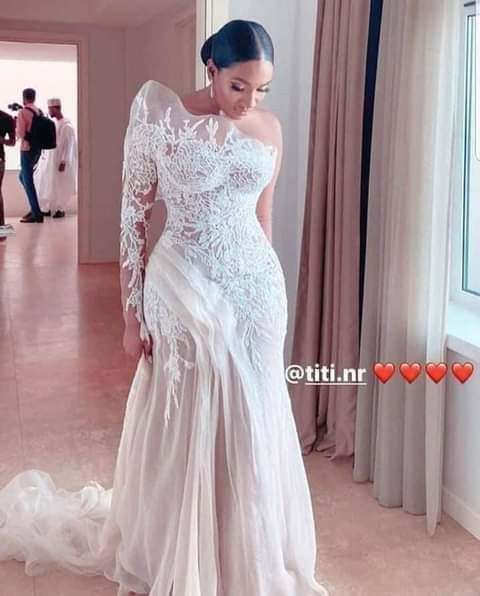 Fatima, the new daughter-in-law of former Vice President, Atiku Abubakar, has regretted the choice of dress she wore for her wedding which caused a stir on social media among adherents of the Islamic Faith.
Fatima who is the daughter of the former Economic and Financial Crimes Commission (EFCC) Chairman, Nuhu Ribadu, got married to Aliyu Abubakar at the weekend in Abuja. The event was attended by top political figures including APC chieftain Bola Tinubu and State Governors.
Her choice of wedding dress generated backlash and criticisms among Muslims on social media, including Kaduna APC chieftain, Dr, Hakeem Baba-Ahmed, who discribed it as 'unbecoming of her faith and culture".
In a statement issued on Instagram on Tuesday, October 5, Fatima said that the colour fabric under the dress is same with her skin which made people think she exposed her skin.
She wrote;
"I got married on Saturday 03/10/20 and some pictures of me that were taken inside our home got out and was shared on social media,"
"This is an action which I sincerely regret. I apologize to my friends and family for this mistake and want to sincerely thank each and everyone that has risen to my defense,"
"My under dress, which was brownish was mistaken for being my skin and exposing my body. I will never do such,"
"However, I accept responsibility for causing my family and wellwishers this dismay and will learn froom this going forward."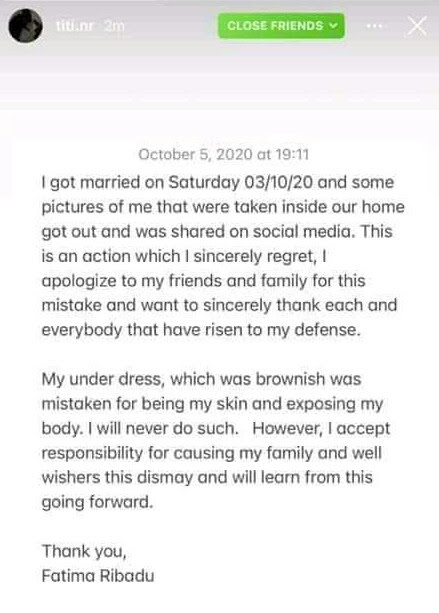 Author: Kolade Ololade
Multiple Award Winning Blogger:: Content Provider :: Graphics Designer :: Social Media Manager :: PR :: Human Resource Enthusiast