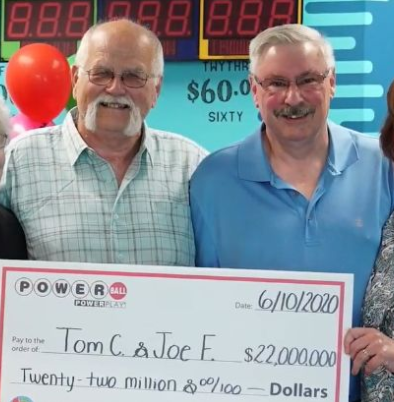 A Wisconsin man who won the $22 million dollar jackpot last month decided to split his lottery winnings with his best friend to honour a promise he made nearly 30 years ago.
In 1992, two best friends, Thomas Cook and Joseph Feeney, promised each other that if anyone wins the lottery, they will split the winnings equally, 50-50. They did not write a formal contract but simply shook hands after making the deal.
In June 2020, decades after they made the promise, Thomas Cook of Elk Mound won the Powerball jackpot after purchasing a lottery ticket from a gas station in Menomonie.
After winning, Cook contacted his friend Joseph Feeney. At first, Feeney thought Cook was joking because the pair would buy lottery tickets every week with no luck.
Both men have agreed to take home $16.7 million and will receive $5.7 million each after federal and state taxes. Both men are retired and say they plan to go on vacation.
They also said they have many other plans to spend the money but want to have more quality time with their children and grandchildren.
"We can pursue what we feel comfortable with, I can't think of a better way to retire."
The gas station where Cook bought the ticket has also received $100,000 for selling the lottery ticket.
Author: Kolade Ololade
Multiple Award Winning Blogger:: Content Provider :: Graphics Designer :: Social Media Manager :: PR :: Human Resource Enthusiast