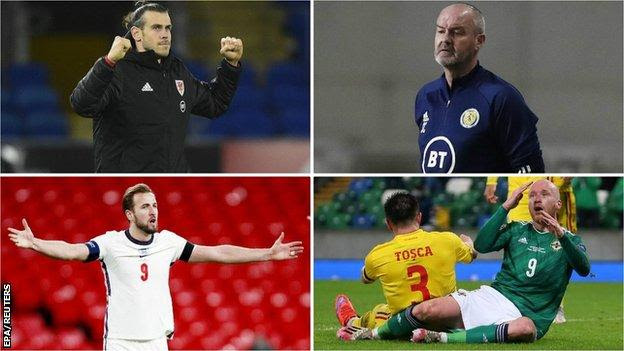 Gareth Bale and Wales were the only one of the four home nations to get the results they needed in this international break
Wales were promoted to the Nations League top flight, but Scotland failed to join them – and Northern Ireland have been relegated.
Italy, Belgium, France and Spain are in next year's finals – but England, who finished third in their group, are not.
The two highest-ranking group winners not to secure a spot for the World Cup or play-offs through regular qualifying will earn a play-off place.
Wales earned more points than anybody else in League B, so with all the League A group winners likely to qualify on their own merits next year, Ryan Giggs' side will probably be in the World Cup play-offs.
Winning a group means promotion and finishing bottom of a group in the top two leagues means relegation (League C has relegation play-offs).
The finals will take place in October 2021, with Italy expected to host.
The only thing yet to be decided is relegation from Group A4. Ukraine were unable to play their match against Switzerland because they had several positive Covid tests, with Uefa to decide what the result will be.
Who has finished in the crucial spots?
Qualified for next year's finals: Italy (A1), Belgium (A2), France (A3), Spain (A4)
Promoted: Austria (B1), Czech Republic (B2), Hungary (B3), Wales (B4), Montenegro (C1), Armenia (C2), Slovenia (C3), Albania (C4), Faroe Islands (D1), Gibraltar (D2)
Relegated: Bosnia-Herzegovina (A1), Iceland (A2), Sweden (A3), Switzerland/Ukraine (A4),* Northern Ireland (B1), Slovakia (B2), Turkey (B3), Bulgaria (B4)
Relegation play-off: Cyprus (C1), Estonia (C2), Moldova (C3), Kazakhstan (C4)
*Uefa must decide the result of Ukraine's game with Switzerland after it could not take place. Switzerland will be relegated unless they are given three points, in which case Ukraine are down.
Group A2
England finished third, meaning they will stay in the top division next season, but not go to the finals as they did last time.
Their 4-0 win over relegated Iceland was a dead rubber.
Belgium booked their place in the finals with a 4-2 win over Denmark.
Group B1
The Norway and Romania points totals are subject to any Norway appeal – but any changes would not affect promotion or relegation
Northern Ireland have been relegated to the third tier after only picking up two points from six games.
Their hopes of survival were ended hours before their final game against Romania.
Uefa's decision to hand Romania three points after Norway were unable to play on Sunday because of Covid restrictions sealed their fate.
Northern Ireland's 1-1 draw with Romania means even a successful Norway appeal would not save Northern Ireland now.
Group B2
Scotland missed out on promotion after losing their last two games when two points would have been enough.
They lost 1-0 to Israel to cost them the chance to go up and a possible World Cup play-off. The Czech Republic were promoted instead with a 2-0 win over neighbouring Slovakia.
Group B4
Wales sealed promotion to join England in the top flight thanks to five wins and one draw from six games. A 3-1 win over Finland in the final game secured their promotion.
They will be in the 2022 World Cup play-offs unless two or more of Italy, Belgium, France and Spain fail to qualify for the tournament or play-offs next year.
The Republic of Ireland stayed up despite only scoring one goal in the tournament. A 0-0 draw with Bulgaria was enough to keep them up.
Author: Kolade Ololade
Multiple Award Winning Blogger:: Content Provider :: Graphics Designer :: Social Media Manager :: PR :: Human Resource Enthusiast